Features
Practice Test
Practise all DVSA revision questions for your PCV theory test
Study one or multiple topics at once.
The app remembers everything you've done and adapts as you progress.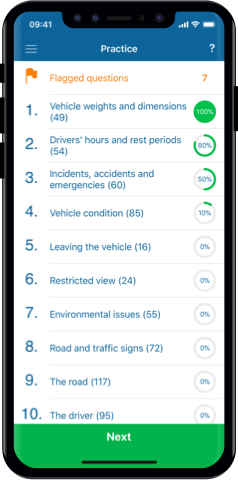 Mock Test
As close to the real test you can get in an app
Mock Test contains the same time limit and number of questions as the actual test.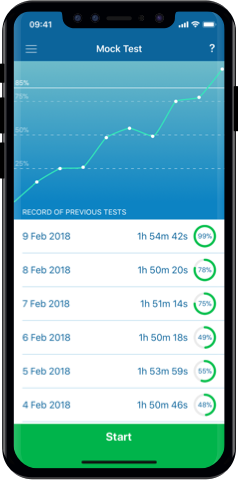 Personal Trainer
Let the app's intelligent algorithm be your coach
The Personal Trainer will randomly select questions from all the topics, adapting as you progress. It has a dynamic percentage chart as a visual to let you know how many questions you're answering correctly. You'll be presented with the questions you need to learn the most until you reach 100%.
Flag and Review
Put any difficult-to-remember questions in one section
We all have certain questions that are 'blind spots'. Tap the flag symbol on questions you find difficult to remember to put them all in one place. This is an extremely useful section to check out just before the test.
What our customers say
Brilliant app. Really helpful

by Ginnerman 2010

Brilliant app to test yourself on all sections of the theory test. I used the app over a week and past first time.
Essential

by Artychik

Very easy to use, many choices as to how to test yourself, explanation for each question. Invaluable and worth the money. Thank you 👍🏻
Very good and helpful

by David

I'm currently waiting to start a new job as a trainee bus driver and have found these apps a massive help. My manager says that they are well worth looking at.